Bareback Rider Caleb Bennett Seeking First World Title at Ninth Career NFR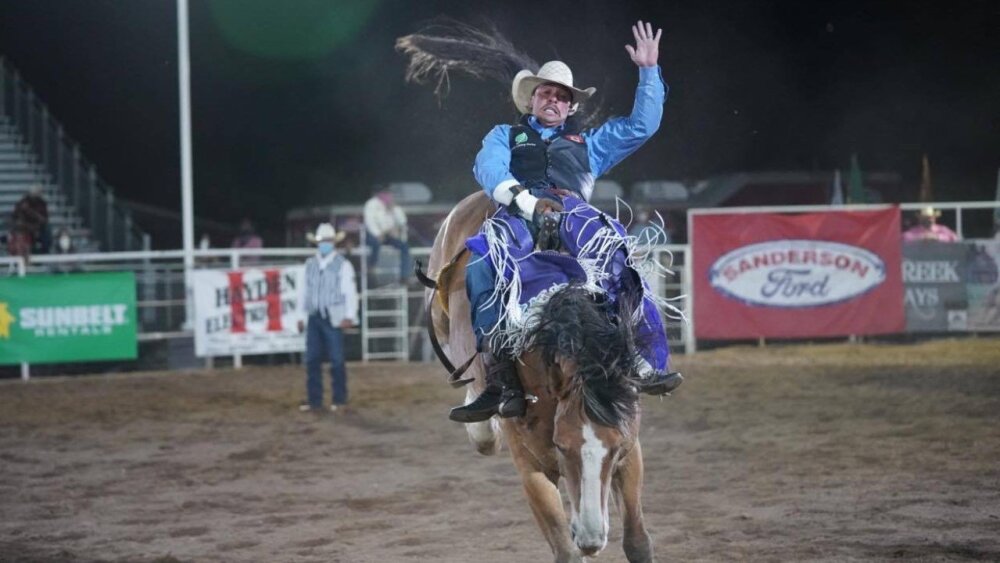 From an average score standpoint, 2021 was Caleb Bennett's best of his career. The 33-year-old cowboy averaged a career-best 83.8 points per ride, more than a full point better than his previous best.
Bennett finished the 2021 regular season in the No. 4 spot after earning $140,213 on the year. The No. 4 finish would tie his career-high (2016) finish in the World Standings.
Bennett earned his first big payday back in March with a second-place finish at the Southeastern Livestock Exposition and Rodeo. He went 85.5 points to earn $3,675.
Bennett would be to top earner at the San Angelo Rodeo without winning a round. He finished in fourth place in round one and second in round two. The 86.5 point ride and 89 point ride would be good enough to win the average, and in total, he won $9,166 on the weekend.
The first win of the season came in April at the Guymon Pioneer Days Rodeo. Bennett went 87 points on Freckled Frog for the win and a nice $3,257 check.
Early July was very kind to Bennett who started the month with a win at the World's Oldest Rodeo in Prescott, Arizona. Caleb went 90 points on Chosen One and cashed a check for $5,852.
CALEB BENNETT, WORLD'S OLDEST RODEO, 90 POINTS
Bennett followed that up with a win at the Cody Stampede after a 91.5 point ride on Gun Fire. The win earned Caleb a check of $5,746.
CALEB BENNETT, CODY STAMPEDE, 91.5 POINTS
Caleb went stayed hot at the Calgary Stampede where he posted scores of 81 points, 86 points, 91.5 points, and 90 points in the Pool round. He followed that up with 92.5 points in the semifinals and took second place in the finals with a 92.5 points ride.
CALEB BENNETT, CALGARY STAMPEDE, 91.5 POINTS
At this point in the season, Bennett was locked into his ninth career NFR appearance. The only question that remained, how high would he climb in the world standings?
Bennett stepped up when it mattered most, earning more than $20,000 in the month of September, including three round wins. The big month shot Bennett up to the No. 4 position in the World Standings. He currently sits $21,000 behind the World No. 1 Tilden Hooper ($161,952).